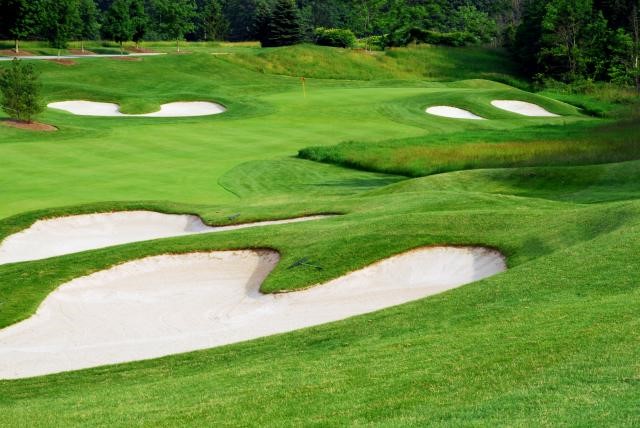 The 3rd Hole
Greystone Golf Club, Milton, Ontario
Nestled into the rolling hills below the dramatic cliffs of the Niagara Escarpment, Greystone is a graceful parkland layout featuring dramatic views of the surrounding countryside and even the skyline of Toronto more than 30 miles away.
A small, diverse group of businessmen who were passionate about the game of golf, purchased the former horse farm with a vision of creating an exclusive club for golfers who shared the same passion for the game.
The undulating terrain, magnificent specimen trees, dramatic elevation changes and panoramic views of the Niagara Escarpment and surrounding countryside provided the perfect canvas of natural features on which to build upon.
Using the long natural flowing lines of the escarpment as inspiration, the course was sculpted sensitively into the natural landscape. Numerous environmental issues including landform preservation, added to the complexity of the design process. Working in cooperation with a number of environmental agencies, a sensitive routing was developed to preserve the integrity of the Niagara Escarpment.
The course provides an exciting challenge for golfers of all skill levels with medium-sized greens, steep-faced bunkers and a number of strategically placed water hazards.
One of the most captivating features of Greystone are the numerous optical illusions on many of the putting surfaces against the massive backdrop of the Niagara Escarpment.
Greystone was ranked the 3rd Best New Course in Canada by Golf Digest in 1992.